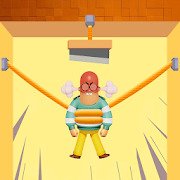 Why it is worth downloading Play Your Boy 1.0.1
Play Your Boy - This is a very addictive action arcade game with the view from the third person. The main role will be played by a character who hangs on a huge rope and is surrounded by dangerous things. Try to help him get to the floor and avoid all obstacles in any convenient way. Eliminate danger and create a safe environment will be your main task throughout the gameplay. Plan your actions in detail and create a clear sequence. First, you need to take care of clearing all traps and obstacles, the way they interact with each other. Get to the exit of this creepy room and escape as far away as possible. Go through one level after another, with increasing difficulty. Visit all available locations and try to get the highest marks for your efforts. Test your skills in unconventional thinking and quick adaptation to any situation. Download the game and play.
The most important features of the game:
Excellent graphics
Simple management
A lot of levels.
Download Play Your Boy 1.0.1 on Android: