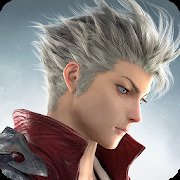 Why it is worth downloading BLADE XLORD 1.5.1
BLADE XLORD is a rather interesting RPG action game with a third person view. In this application you will have to plunge into the world of fantasy and incredibly fabulous events that will unfold in the long forgotten times. The planet is in danger of extinction, and all the blame for the terrible creatures that are still roaming its lands and preventing ordinary people from living. Gather around and start destroying all monsters using your unique skills and battlefield abilities. You can pump up your unique talents with the game currency, and apply them to the most challenging moments of combat as needed. Traveling through the locations is a lot of interesting situations that will happen to you completely randomly at any moment. Be prepared for everything and constantly replenish your inventory with all the necessary components and items to feel more confident. Classic controls and great graphics will brighten up your watch.
The most important features of the game:
Great story
Plenty of little things
Not a bad gameplay.
Download BLADE XLORD 1.5.1 on Android: