Wolf Tales - Home & Heart 62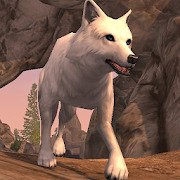 Developer:
Foxie Ventures
Russian: No
Why it is worth downloading Wolf Tales - Home & Heart 62
Wolf Tales - Home & Heart - This is an incredibly creative game that is in the genre of casual simulator with the view from the third person. In this game you will have to try to show all your hunting skills and abilities while being in the skin of a young wild wolf. The history of this world tells us about the magnificent life of free wolves, which sometimes happens and not quite as simple as it may seem at first glance. You have to do a lot of actions to live at least one day in the vast areas of this game. Go out hunting and slowly track down your prey, so you can end up with a crushing blow. Keep an eye out for more wildlife around you, as there are plenty of wild animals around you who want food as much as you do. Fight other flocks and pump up your instinct skills to make you feel more effective everywhere. Extremely simple controls and a lot of interesting little things will make you love this game, and spend a lot of time in it.
The most important features of the game:
Cool atmosphere
Plenty of details
Interesting player actions.
Download Wolf Tales - Home & Heart 62 on Android: