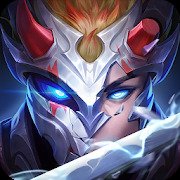 Why it is worth downloading Eternal Sword M 1.2.1
Eternal Sword M - This is a rather fascinating RPG action game with a third-person view. Pass all the tests and complex puzzles to become a true defender of light in this world, which gradually plunges into the abyss of darkness. There will be several game characters around you to choose from, so think carefully about your future actions in determining the role. After choosing the hero, dare to conquer the vastness of this world and fight against the horde of darkness and chaos that is in each of your enemies. Pump your unique abilities into the game for each of the existing characters. Meet interesting heroes and join guilds as you team up against a common enemy. Play your role on the team and take advice from your friends to be more effective in the battlefield. Explore the terrain and defeat bosses with money. Buy the things you need to become even more powerful and invincible.
The most important features of the game:
Spacious map.
Plenty of characters
Cool combat system.
Download Eternal Sword M 1.2.1 on Android: