Your Phone Companion - Link to Windows 1.20022.120.0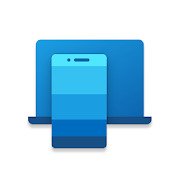 Developer:
Microsoft Corporation
Current Version:
1.20022.120.0
Russian: Yes
Why it is worth downloading Your Phone Companion - Link to Windows 1.20022.120.0
Your Phone Manager - Communication with Windows - This is a very interesting program for your smartphone, which has a lot of special features and capabilities. To start with, you should know a couple of simple tips for the convenient use of this application. All functions and features are aimed at communicating with your personal computer or laptop, which can be at any distance. Now you don't have to load your phone memory with unnecessary files or image documents. Thanks to the convenient functionality, you can always transfer all the necessary data to your computer, or in reverse order from computer to phone. Receive calls and transfer them to another platform with a convenient management that allows you to enjoy using this application. A large library of features and constantly updated functions will allow the application to stay up to date for a very long time. Download and have fun.
The most important features:
Plenty of features
User-friendly interface
Clear control.
Download Your Phone Companion - Link to Windows 1.20022.120.0 on Android: