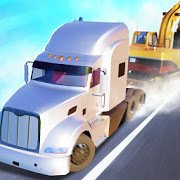 Why it is worth downloading Tug of war 1.0.6
Tug of war is a rather unusual game, that is in the simulator genre with the third person view. Start to test each of the cars available for the first time for durability, and go to the competition where you will need to find out which of them is better. So how do you check this fact yourself? First you need to tie two different cars together through a special winch, and then you will be able to figure out which one is the most powerful. Just press the accelerator pedal to the floor and watch the action on your screen. Each driver has his own experience, which determines his professionalism, and the ability to drag an opponent while winning an undeniable victory. It's just an incredibly huge selection of different cars, each with its own unique color and features that allow you to pick up the most interesting tests and conduct them in real life with live 3D models. Simply download the application from our website for free and start playing now.
The most important features of the game:
Pleasant control
Interesting Gameplay
Plenty of cars.
Download Tug of war 1.0.6 on Android: