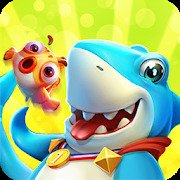 Why it is worth downloading Fish Go.io 2.9.2
Fish Go.io is a very interesting game, that is in action genre with third person view. In this application you will find a lot of interesting situations that will take place at the bottom of one of the sea depths. Among the brightest events you will encounter a clash with other players in the role of inhabitants of these vast areas, namely the fish. Gather as many of your fellow players as possible and defeat your main enemy with the crowd effect. Discover new fish species and improve your ability to seize power on locations so you can defeat them more easily and quickly. Try to see if you can capture all the fish in the open ocean and become its chief supreme ruler once and for all. Just swim in the ocean and be very careful when you are alone, because most of the sea creatures that eat meat, such as sharks, will be able to attack you at a convenient moment for them and immediately take their lives. This game can show you quite a lot of different locations.
The most important features of the game:
Fantastic atmosphere.
Dynamic contrast
Excellent control.
Download Fish Go.io 2.9.2 on Android: