Bike Hop: Be a Crazy BMX Rider! 1.0.39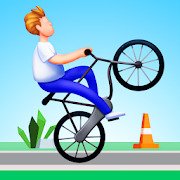 Why it is worth downloading Bike Hop: Be a Crazy BMX Rider! 1.0.39
Bike Hop: 3D Racing, conquer the off-road! - This is a very addictive action arcade game with a third person view. In this game you will have to make a lot of unusual actions, which no man in his right mind will not do. Quickly get on your bike and jump on the jump from all the acceleration, while passing as far as possible in flight. A jetpack will be attached to your shoulders, which, as you pump up and improve, will take you far beyond the starting point and allow you to break your previous record with new results. Upgrade the jet pack and pump the height and steepness of the jump from which you will be pushed as you move upwards. Set a new world record or get closer to the results of other players who have been through these tests long before you. Fully develop and entertain yourself by opening up all the available game opportunities and pumping your skills after landing on the ground.
The most important features of the game:
Cool idea
Lots of funny moments
Easy operation.
Download Bike Hop: Be a Crazy BMX Rider! 1.0.39 on Android: