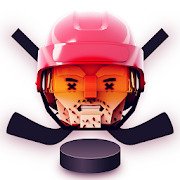 Why it is worth downloading Brutal Hockey 1.0.2
Brutal Hockey is a very interesting game, which is in the genre of sports with a third person view. In this offer your main task will be to control the character that is on the ice arena. It is a game like hockey where you will find a lot of hard and incredibly dynamic moments in each round following each other. You will also be able to play one of several modes that include small mini-games in which you will be able to train your abilities and skills to gain experience in the game. Choose from a range of pre-arranged teams and enjoy the incredibly interesting look of your uniform, which will be worn on top of each of the characters. Try to win all 30 tournaments and win to raise your nickname to the list of the best players in the world. Each round will surprise you with its rewards and achievements, which you will receive in case you win over your opponent. Download the game and enjoy it now.
The most important features of the game:
Fun tasks
Plenty of bonuses
Lots of matches.
Download Brutal Hockey 1.0.2 on Android: