EWA: Learn English & Spanish Language 5.5.2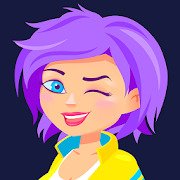 Developer:
Lithium Lab Pte Ltd
Russian: Yes
Why it is worth downloading EWA: Learn English & Spanish Language 5.5.2
EWA: Learn English & Spanish Language are a very useful application on your smartphone, which is in the genre of educational programs. Start learning English from scratch using all the standard ways to learn English in detail. You'll have to scroll through a bunch of text and memorize terms you don't understand. It's the exact opposite. Now you can play small mini-games and memorize words in another language using associations and synonyms. Solve simple puzzles by combining coloured dice with letters into one full word, so you can memorize all your progress without any difficulty. The user-friendly and very beautiful interface will help you interact with the application without any difficulties, and get the best result at the end of the game. Great animation and a huge database, in spite of everything, will be able to create the atmosphere in which you will want to learn at any time convenient for you. Download the application and learn English.
The most important features of the game:
Excellent interface
Convenient presentation of information
Big library.
Download EWA: Learn English & Spanish Language 5.5.2 on Android: