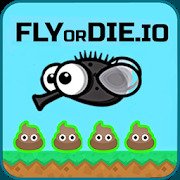 Why it is worth downloading FlyOrDie.io 1.1
FlyOrDie.io - This is rather unusual action game with arcade elements in third person video. In this application you will become one of the key links in the food chain, which is constantly evolving and growing in its size. Become a strong element in one big cycle and absorb the weaker creatures in order to increase your level. Do not forget about the water balance of the creatures you control. Raise your oxygen level and don't forget to constantly run away from dangerous enemies that can end your existence very, very soon. Go a difficult way, during which can reveal new abilities and talents of your character to help him to defeat the enemy. Pass all the trials and stay alive until the end of the round to get your reward and enter the list of the best players in the world. Compete for the title of the best leader, and experience all stages of the hero's evolution that are filled with action and dynamic moments.
The most important features of the game:
Incredibly fun gameplay.
Cool graphics
A lot of heroic stages.
Download FlyOrDie.io 1.1 on Android: