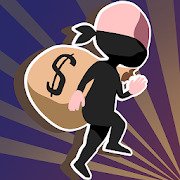 Why it is worth downloading Lucky Looter 0.11
Lucky Looter - This is quite a fascinating game, which is in the genre of casual sports games with elements of stealth. In this game your main task will be stealing, which you will be doing throughout the main plot. Try to break into the house and steal as many different items as possible, which will give you a generous reward with their quantity at the end of the level. Each location will be a separate structure with valuable cargo inside. Your task is to steal absolutely all the items that you will be able to notice on the location. Try to do your dirty work as soon as possible and pick up all the items from the level earlier. Next to the main character will be constantly police officers who patrol the streets of the city every day. Don't get caught in front of them and continue your thievery business as soon as they leave the map point. Funny control of the hero will allow you to feel all the delights of Gameplay and get the most out of it.
The most important features of the game:
Pleasant graphics
Fun missions
Innovative Gameplay.
Download Lucky Looter 0.11 on Android: