Police VS Gangsters 1.3.1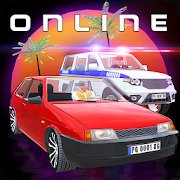 Why it is worth downloading Police VS Gangsters 1.3.1
Police VS Gangsters - This is a rather interesting and interactive game, which is in the genre of action racing with a third person view. In this incredibly addictive game, you will be able to visit both sides of the law and feel all the nuances. If you have decided to choose the side of police as the main plot twist, then there will definitely be a lot of interesting moments waiting for you. Try to drive carefully and set an example for all other colleagues. Take calls and go to the scene of the crime to punish the offender and take all necessary measures against him. Choosing the path of a real street offender will be very difficult, as needs grow to heaven. Be as discreet as possible and try not to draw undue attention to your person. Try to play for each side, taking both their pros and cons. Enjoy simple and responsive driving, and explore this city based on your own memory.
The most important features of the game:
Excellent optimization.
Beautiful graphics
Interesting assignments.
Download Police VS Gangsters 1.3.1 on Android: