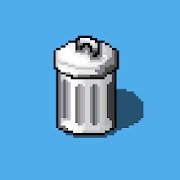 Why it is worth downloading Freegan 1.01
Freegan - Finding the Find - This is a rather interactive game that is in the genre of arcade adventure with a third person view. Prepare yourself for a journey through the most disgusting streets and yards that you will see almost the entire game time. Your main character is an ordinary guy who dreams of ever getting out of his village and going to live in the city. Help him fulfill his lifelong dream and get what he wants through trial and error. Travel to dangerous areas and unpleasant places, and find different kinds of income. Try to raise your first capital by collecting old glass bottles, which you will surely see here very often. Solve simple and complex puzzles and earn money to achieve your desired goal. Get to your city and become a real city guy with a package of norms and morals. Download the game from our website and try to pass all these levels on your own, enjoying the gameplay.
The most important features:
Lots of little things
Interesting assignments
Variety of gameplay.
Download Freegan 1.01 on Android: