Zombie War: Survival 1.0.0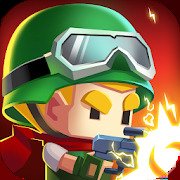 Why it is worth downloading Zombie War: Survival 1.0.0
Zombie War: Survival - This is a very dynamic action arcade game with the view from the third person. Get ready for a lot of action and excellent combat scenes that will accompany you throughout the gameplay. Your task is to protect the last city on earth, which is regularly attacked by dangerous zombie mutants. Huge walls and metal gates can't always save from the death of ordinary surviving city dwellers, so take care of this case yourself. All modern military equipment, which includes huge machine guns and rockets, will be available to you. Destroy all enemies on the battlefield that are trying to break through the central gate and kill all the living. Staying alive will not be easy, because the complexity of the enemies will be constantly growing, and their number is increasing. Stay calm and fight for your right to life by killing the dead. Enjoy.
The most important features of the game:
Excellent graphics
Not a bad atmosphere.
Plenty of enemies.
Download Zombie War: Survival 1.0.0 on Android: