Hotel Transylvania Blast - Puzzle Game 1.7.0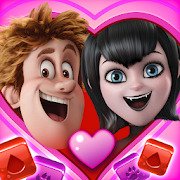 Why it is worth downloading Hotel Transylvania Blast - Puzzle Game 1.7.0
Hotel Transylvania Blast - Puzzle Game - This is an interesting game in the genre of casual puzzles with third-person view. A golden ticket to the legendary hotel is in your hands. Now you are in Transylvania, and the main manager of the hotel is legendary Dracula himself. Be very careful before you want to stay in such places, because in addition to vampires there are other dangerous monsters that will try to eat you at any opportunity convenient for them. Help the heroes of the game to go through all the dangers and problems through interaction with colorful crystals on the main screen. Fold all the elements of the same colour into a suitable form and get the highest score possible on your score. Assemble combos of combos by skillfully handling the items. Connect with new friends and decide the fate of your characters. A very addictive game three in a row, which will give you the opportunity to relax to the full.
The most important features of the game:
Simple control
Plenty of interesting levels
Simple tasks.
Download Hotel Transylvania Blast - Puzzle Game 1.7.0 on Android: