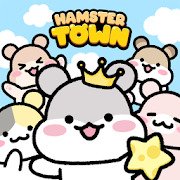 Why it is worth downloading Hamster Town 1.1.91
Hamster Town - This is a very beautiful game that is in the casual genre with a third person view. Now you own your own house, which has several floors in height. Invite your new hamster friends and have fun with them, spending time with different mini games and puzzles. Solve puzzles and get rewarded for successfully completing tasks. Chat with your fluffy comrades more often, as this can improve their attitude towards you. Unlock all kinds of hamster suits and try to maximize your success in this house. Have fun in any way you can find and do whatever you want, because this is your property. A lot of interesting apartments will surprise you with their variety and unique atmosphere that lurks in each of them. Pleasant music and graphics sharpened to the style of the cartoon will show you the best in this place. Download the game from our website and start playing now to have time to pick up all the bonuses.
The most important features of the game:
Decent atmosphere
Not a bad assignment.
Plenty of details.
Download Hamster Town 1.1.91 on Android: