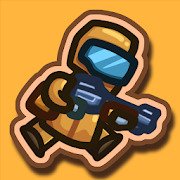 Why it is worth downloading Zombie Guard 2 1.00024
Zombie Guard 2 - This is a great arcade action game with a third person view. Start making money on killing zombies that are trying to break through your defense with force and kill you. For the protection of your improvised line of defense will be good for anything that comes at hand, because the main thing is a tactical matter. Arm your team of survivors with the most basic weapons and wait for your enemies at the entrance. For each zombie you kill, coins will fall on the player's account, which will be useful in the future game. Each subsequent wave of zombies will be much more powerful and complex than the previous one. Use your resources wisely and try to survive as long as possible. All the money earned for the round you can spend on your own need. Buy the gun for yourself and your team, or learn any skills for more effective defense is up to you. Download the game from our site now, and start to protect the last settlement of survivors from the terrible zombie virus.
The most important features of the game:
Not a bad atmosphere.
Lots of improvements
Cool design.
Download Zombie Guard 2 1.00024 on Android: