Hero Academia : My Fantasy World 1.8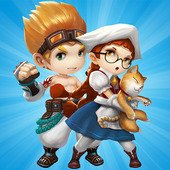 Why it is worth downloading Hero Academia : My Fantasy World 1.8
Hero Academia : My Fantasy World is a fun RPG action game with a third person view. Discover an exciting new adventure in a world that will become a real home, or just a place where you want to return again. Welcome to your fairytale world, where you will find many new meetings and acquaintances. Lots of characters you can talk to, or take on an assignment as needed. Open maps, where your character will move around alone, or with a pleasant and fun companion who can help you at the right moment in the battle. Collect game currency and buy a variety of clothing and tools for the main character. Make new friends and take them to your little room, which will gradually grow and develop. Explore all areas of the open world in front of you. Fight your enemies and get valuable bonuses and prizes to your gaming account, thus benefiting from this. Download the game now.
The most important features of the game:
Spacious map
Excellent combat system
Plenty of characters.
Download Hero Academia : My Fantasy World 1.8 on Android: