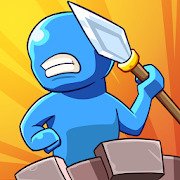 Why it is worth downloading Tiny Battle 1.10
Tiny Battle - This is a fun toy, which is in the genre of casual arcades with a view from the third person. You will have at your disposal many units of your own warriors and a huge castle, which you will have to defend against enemy raids. Install a guard around the perimeter of the wall or group them at the entrance, the main thing is not to let more than one inside. Start defending the castle with your tactics and team spirit. Connect two weaker warriors and you can get one new, but stronger in ability and health. Keep all the treasures inside the fortress and try to leave as many by the end of the round as possible. Each level will give you the opportunity to come up with a unique plan of action, and show your talents in tactical battles. Simple and clear Gameplay. If you decide that the game is too simple for you, and you can easily pass it in a few tens of minutes, then just download. Test your skills in action.
The most important features of the game:
Cool atmosphere.
Great graphics
It's not a bad assignment.
Download Tiny Battle 1.10 on Android: