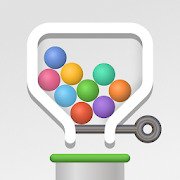 Why it is worth downloading Pull the Pin 0.10.1
Pull the Pin - This is an addictive puzzle game that is in the genre of puzzles with the view from the third person. In this addictive game, your main task will be to move the coloured balls around the screen. Open a special clamp and release them out to bring them to the end point where they need to get to the end of the level. Try to challenge the real physics and pass the level in as little time as possible. Take out all pins in turn and pass the balls through the fence. Try to push the balls out of the pipe and not to leave a lot of excess. There are plenty of exciting levels in the game, each of which will offer you not only new locations, but also more challenging conditions than the previous ones. Discover a new way of entertainment and train your brain by playing a game that looks ordinary at first sight. Simple and sensitive control, will give you all the possible options. Download quickly and start moving through the levels, solving puzzles one after the other.
The most important features of the game:
Cool levels
Plenty of details
Interesting puzzles.
Download Pull the Pin 0.10.1 on Android: