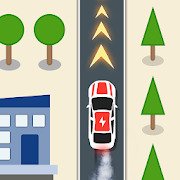 Why it is worth downloading Pick Them Up 1.0.1
Pick Them Up - This is an interesting game that is in the genre of casual puzzles with third person view. In this application, your main task is to develop tourism in different countries and cities of the world. Get behind the wheel of your new car, which is made specifically to show all the beauties and please people. Setting up an exact route and getting your first client to access will be your first task. Apply your route to the most interesting sights, and places to visit exactly where it is worth visiting. Do not forget about traffic rules, passing a few cars in front of you at intersections. Explore the map and discover all the places you can travel to, so you can afford to visit them later. Pick up your passengers at the places marked on the map and take them to their final destination. Enjoy easy car driving and simple gameplay that is sure to appeal to those who like to spend time in peace and quiet.
The most important features of the game:
Spacious map
Plenty of details
Quiet Gameplay.
Download Pick Them Up 1.0.1 on Android: