Hobo Life - business simulator 1.3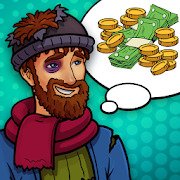 Why it is worth downloading Hobo Life - business simulator 1.3
Hobo Life - business simulator - This is an unusual game, that is in the genre of simulator with the view from the third person. In this game, your main task is to control the character from the street. Having appeared in the game world at the beginning, you are an ordinary beggar from the street, that doesn't even have money for food. Start playing by your rules and gradually gain success and wealth. The path from mud to the prince will be difficult, but that's the essence of the game. Try to build your career of successful business from scratch, using the minimum investment at the start. Leave the dirty streets and move your character to the mansion. Buy yourself new clothes and finally start living a full life. Try to build your business on your plans and accurate calculations that should lead him to victory. Comfortable interface elements and nice drawn graphics are all you need to relax and start creating your life from scratch. Download the game and have fun.
The most important features of the game:
A wide range of actions
Great simulator
Repeatability.
Download Hobo Life - business simulator 1.3 on Android: